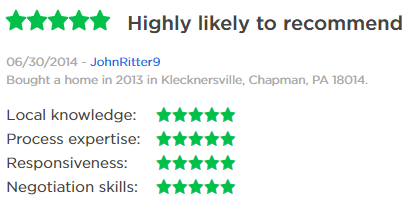 I first met Rob a few years ago when I first thought about buying a house. He was very helpful but not pushy. 2 years later when I finally put my mind to it, I remembered his helpfulness which is what made me use Rob as my agent. He is very helpful, straightforward and knowledgeable. I would recommend Rob for anyone who is on the market for a new house...he won't steer you wrong!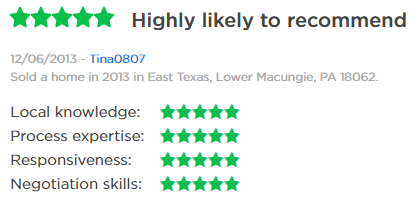 Rob was great! Very personable and professional. He marketed our house very well and our it sold in just a few short months. He made the entire process easy from start to finish.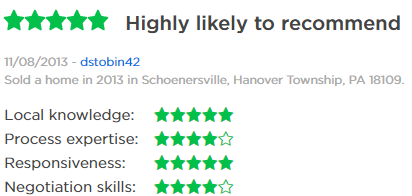 I definitely would recommend Rob. His attention to our sale was extremely appreciated since we handled our Pennsylvania sale with me being out of state. Helped in getting area contractors to our great satisfaction. Kept in contact even when on vacation in order to move sale. Explained conditions of local laws in order to meet compliance.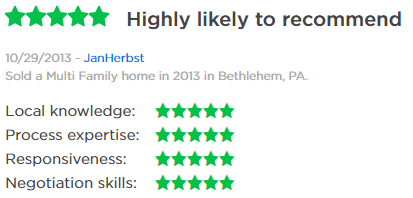 We would highly recommend Rob McCann to anyone selling or buying a home. After three months trying to sell the parent's home from six states away, we needed a professional's help! We found Rob McCann through the Zillow website and we have been thanking our lucky stars ever since. We sent an email on a Thursday at 5:30am and by 10am that day we were in contact. Rob rearranged his calendar and met with us the next day. We signed the contract to have Rob handle the transaction and a week later Rob had a buyer with a signed contract, at our listing price. Rob's knowledge of the area, his knowledge of real estate and his fantastic personality gave us the confidence that we were in good hands. Rob is pro-active and his attention to detail working with the buyer, the title company, the bank, the City, and the appraiser allowed settlement to happen on schedule! Yes, "We have a friend in Pennsylvania!"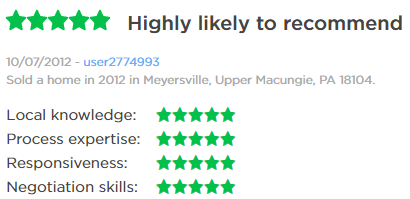 Our experience with Rob was excellent. He demonstrated a knowledge of the local market and value of our home, that translated into an agreement of sale within one week of listing, for 98% of list price. He handled the expected and unexpected nuances of our transaction with seasoned expertise. He was highly professional, confidential and pleasant to work with. We would offer our highest commendation and recommendation of Rob.
Honest feedback to make a effective listing. Told me what needed to be done for the best results and it worked. Gave me a accurate estimate of value and listed it properly for a sale and settlement in only 28 days. Eric S.
I had an excellent experience dealing with Assist 2 Sell PA . We purchased our home 2 years ago and our realtor was SO helpful we were sure to use Assist 2 Sell again in the purchase of our son's home. I would recommend them to ANYONE looking to purchase or sell or rent their home . Thank you Assist 2 Sell you did a FANTASTIC job !!!!!!!! Russ and Angel
Our agent went above and beyond to find us our perfect home. He was patient, compassionate, and kind throughout our search. The most honest and knowledgeable real estate agent I've worked with. Melissa D.
Working with our agent was a Godsend. I live in Maryland but was selling my parents' house in Pennsylvania. He consistently kept me aware of the process as it developed. He made sure all of the necessary paperwork was completed in a timely manner. In essence, he held my hand throughout the entire process. He was personable and professional. I would certainly recommend him to anyone selling a house in the area.